SU-CASA
Funded by the New York City Council, SU-CASA has grown from a small demonstration project arising out of Age-Friendly NYC in 2010 to the largest public participatory arts program for older adults in the United States, with programs in 224 centers around New York City.
SU-CASA provides grants to artists and cultural organizations to bring stimulating interactive arts programs to neighborhood senior centers (and other senior-serving organizations) across the five boroughs of NYC. SU-CASA has two arms:
The City Council designates funds for cultural organizations, which are vetted for appropriate credentials by the Department of Cultural Affairs (DCLA), the Department for the Aging (DFTA), and community partners. Each City Council member then designates three vetted cultural organizations to run programs in designated senior centers.

The City Council designates funds to the five borough arts councils, which then distribute grants on a competitive basis to independent teaching artists to run programs in designated senior centers.
Participants engage in a focused creative project, designed by the teaching artists, over a 40- or 60-hour program and work toward a public event, where they share their work with the community through a performance or exhibition.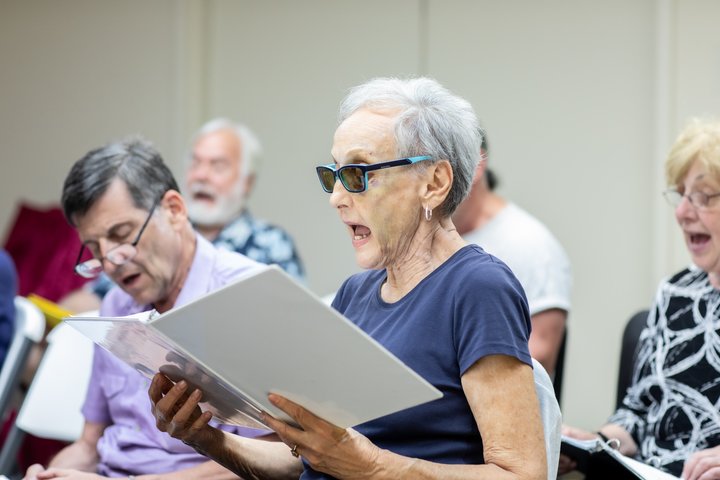 "I know that if I do music it will help — I will live longer."

– SU-CASA participant
Other arts opportunities
SU-CASA presents a tremendous opportunity for older New Yorkers to participate in the arts, but it's not the only game in town. Creative aging programs with different program structures come from a variety of sources and are offered in different settings:
Libraries
Cultural organizations with programs for older adults
Senior-serving organizations with arts programs
Educational organizations
Other nonprofits
Inspired independent efforts in various locations
---
Case Study:
Brooklyn Public Library
The Brooklyn Public Library offers 8- to 10-week artist-led workshops that follow a sequential learning model and include a culminating event. Designed for adults 50 and older, with no experience necessary, classes include theater and improvisation, singing and dance, painting and watercolor, ceramics, photography, nonfiction writing, and storytelling. In 2018, the library system served almost 700 older adults across 35 programs.
Each branch selects its classes based on community input, and classes are available in Spanish, Chinese, Creole, Polish, Russian, Hebrew, and Japanese. "Diversity is a fun challenge," says Taina Evans, coordinator of Older Adult Services, of the effort to provide classes in the appropriate languages and subjects across the system. The library continually evaluates its programs; participants almost unanimously rated them "excellent" when surveyed. Participants commonly reported that the classes had increased their skills and led to new friendships.
For those who are homebound, the library works with DOROT's University Without Walls program to offer remote access courses in four-session series. Students receive art supplies in the mail and participate in exercises during classes by phone or videoconference, then work on their projects between sessions.
---